Taekwondo is a Korean martial art that has been practiced for over a thousand years before being refined in the early 1940s and becoming a popular sport worldwide. This martial art differs from the others because of a specific butterfly kicking posture style which includes spinning, jumping, and kicks directed at the opponent's face.
Approximately a 10.2million people around the world have attained the black belt title. Taekwondo trainings are conducted in taekwondo gymnasiums like YB taekwondo academy. The taekwondo programs in the gymnasiums, therefore, have a direct hand in taekwondo training. If you have not joined any taekwondo academy, even with the popularity of taekwondo worldwide.
Here are some reasons why you should practice taekwondo;
Builds strength and skills-As you begin the taekwondo training, one gets to learn the basic principles of taekwondo: agility, Balance, and Coordination. As you train, you develop technical and tactical skills for sports and life. Maintaining posture builds better function with core strength, muscular strength, and endurance. 
It is a recreational and Olympic sport-Taekwondo is a popular, dynamic, and widely practiced martial art worldwide. As a recognized Olympic sport, taekwondo is evolving to make it more exciting and challenging for everyone to enjoy. Taekwondo has two sport streams that students are encouraged to participate in; Sparring and Poomsae. Advancement in technology and production of new gadgets now and then has become a challenge to modern parents in bringing up the children in the right values. ·
Enhances social skills-With the basic principles of taekwondo, it can be used to instill discipline and character development in our kids. Taekwondo reminds everyone to be respectful and polite, have self-discipline and develop consistent daily habits towards life. Interacting and working with partners allows for verbal communication and reading body language.
Increases mental strength- Taekwondo students learn about work ethic, determination, perseverance, setting goals, and crushing them. This is because of the unending repetition in the pieces of training and the consistency that inculcates such strength. People of all ages benefit from taekwondo training as it provides a balance for a fertile mind, body, and spirit.The thrill, excitement, and sensation that comes with setting goals and attaining them, thus building every person's confidence in taking taekwondo.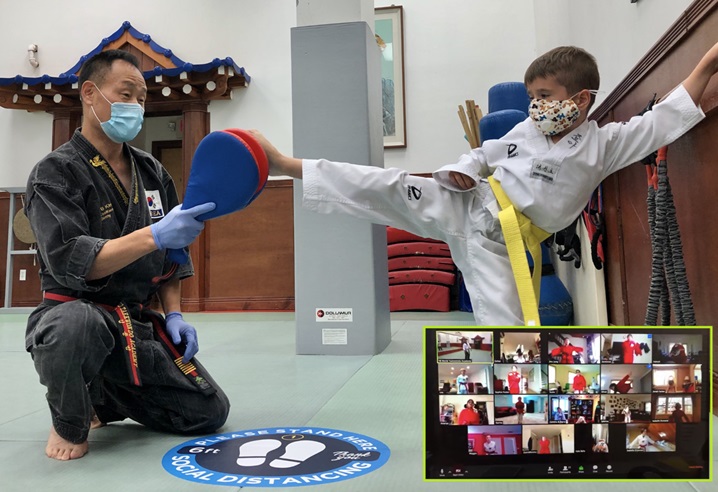 Builds emotional strength-As the training progresses; the student gains an understanding and experience of success, joy, and achievement. As students train, they learn and adapt at their own pace and ability, yet strive for self-improvement and personal growth.
Improves your fitness levels-Adult training of taekwondo improves one's fitness levels by the different postures, techniques, and cardio exercises involved in taekwondo training. If you are struggling with following a certain workout routine, this would be your training. It will enhance your fitness and improve your cardiovascular organs and also it is guaranteed that you will certainly lose weight.
Encourages non-violent resolutions-Most people tend to assume that taekwondo promotes violent behavior, as shown in some movies, but this is not the case. This certainly is not the case; taekwondo teaches its students non-violent conflict resolutions and emphasizes the prudence of avoiding a physical altercation unless when necessary.
In conclusion, if the above reasons are not sufficient to convince you to join taekwondo, I don't know what will convince you but if you still choose to take taekwondo, then break a leg!